Fun Project Class
Twas The Night Before Christmas -Combine your sewing and embroidery machine skills to create this adorable Holiday quilt. We will start this 12 month series August 29th & will continue the last Tuesday of each month.
We Have 1 spot available in the 6:00-9:00 class.
Class & Kit Fee - $25 each month. This includes Fabric for top, borders, sashing, pieced stars & binding. Shape Flex Interfacing, Fusible Web, Pattern, Class & Embellishments.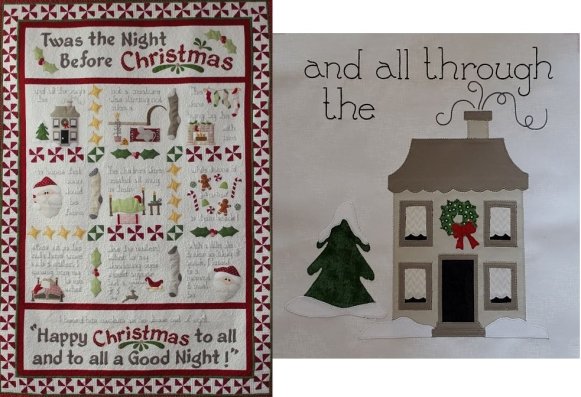 Falling For Autumn Bonus Projects
September 9th 10:00-4:00 Class & Kit -$55
Create the 3 bonus projects that coordinate with Kimberbell's Fall Quilt. Whether you have finished the quilt or not even started, come create these adorable accessory projects just in time to decorate your home.

By Annie Basics
September 18 & 19 10:00-4:00 Class & Kit -$35
Learn the basic By Annie techniques while creating these 3 handy projects. Once you complete these, you will have the confidence to tackle any of the other great By Annie projects.


Seasonal Houses
October 20th 10:00-4:00 Class & Kit -$35
We are going to be creating a Seasonal Neighborhood with Lori Holt's quilt blocks. Starting with Fall, once you learn the basic piecing techniques you will be able to build your own Seasonal Community.


Nordic Tannenbaum
October 24th & 26th 10:00-4:00 Class & Kit - $75
This is an easy to piece quilt embellished with 3-dimensional appliqued ornaments that hang on the quilt with buttons. The ornaments are created with the embroidery machine. Don't have an embroidery machine, that's ok, you can borrow one of ours.